Our commitment is to advance the enjoyment of minority rights at the Latin Village provided in article 27 of the International Covenant of Civil and Political Rights and article 30 of the Convention of the Rights of the Child both of which the UK has ratified.
To raise public awareness of human rights concerns at the UK's only Latin Village Pueblito Paisa and second-largest Latin Quarter, located in Seven Sisters Indoor Market in London.
To promote the Community Plan to restore the Wards Corner site which has been locally listed for its architectural merit and as is registered as a Community Asset.
Our vision is to implement the Community Plan which promotes the majority of the UN Sustainable Development Goals and received planning permission in 2015 and 2019. The building is owned by state-owned enterprise Transport for London.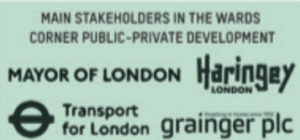 Haringey Council and the Mayor of London as Chair of the Transport for London, are the public stakeholders and they were alerted about the human rights concerns by the United Nations, which including issues concerning discrimination, victimisation, and harassment. In 2019 the Local Borough of Haringey conducted a Wards Corner Scrutiny Review and published their findings which cross-referenced the United Nations communications. into the allegations.
Save Latin Village aims to prevent harm from the public-private gentrification initiatives that will threaten the character of this cultural site which is important to the enjoyment of minority rights. According to a report published by Trust for London, 85 percent of the Latin American community enjoy their culture at the Latin Quarter in South London and the Latin Village in North London.
The regeneration program has attempted to reduce the footfall and the vibrancy of the Latin Village through harmful strategies such as neglect and managed decline which led to serious health and safety concerns to the detriment of the community.
It should be noted that Black and Minority Ethnic social housing residents were unlawfully evicted from the Wards Corner site by the public-private partnership, to provide no affordable housing on public sector Transport for London land. Social housing units on the site have remained boarded up for almost a decade despite severe housing shortages in the area.
Save Latin Village aimed to prevent the demolition process that started before the Compulsory Purchase Order/Eminent Domain process was decided, and legally challenged the Secretary of State's decision.
Save Latin Village supports the Community Plan and the restoration of the Wards Corner historical building that is locally listed because the local authority has officially recognised it as making a positive contribution to the area due to its local character and sense of place because of its heritage value. It is also registered as an Asset of Community Value because the local authority has recognized the land as being used for the well-being or social interest of the local community.