Our mission aim is to raise public awareness about the human rights violations occurring at the UK's only Latin Village & 2nd largest concentration of Latin Businesses: Pueblito Paisa (Latin Village) in Seven Sisters Indoor Market in London. Also to promote the Community Plan to restore the Wards Corner site which has been locally listed for its architectural merit and as is registered as a Community Asset.
Our vision is to implement the Community Plan which is aligned with the UN Sustainable Development Goals. We received planning permission for our Community Plan in 2019 and the building is owned by Transport for London.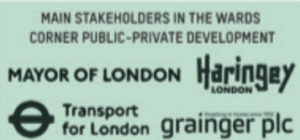 Haringey Council and the Mayor of London (as Chair of the TfL Board) are the principal stakeholders and they are aware of the human rights violations, particularly issues with discrimination, victimisation, harassment, and hate crime, yet they have failed to take remedial action. See published report from the 2019  Haringey Council Wards Corner Scrutiny Review.
We aim to prevent damage from regeneration initiatives to this cultural site that is important to the enjoyment of minority rights with other members of their community. These initiatives attempt to reduce footfall and the vibrancy of the Latin Village. Black and Minority Ethnic social housing residents have been unlawfully evicted from the order land, to make way for zero affordable housing on public sector Transport for London land.
We aim to prevent the demolition process that started before the Compulsory Purchase Order was decided, and we are legally challenging the Secretary of State's decision.
We have our own viable Community Plan that has secured funding. Yet Haringey Council still wants to go ahead with their demolition plans. The building is a listed community asset and is locally listed for its architectural merit.
Please sign online petition to support our diverse community.